What does "Proof of Sock" mean?
Let's cut the technobabble! Proof of Sock is the process by which you can verify the socks you receive were sold by MtSocks and are genuine.
So, how does the process work?
For every pair of socks we sell, we assign a unique Bitcoin address to them, along with a message (e.g. date of purchase and order ID). We use Bitcoin's Message Signing feature to create a signature which proves MtSocks owns that address.
When you receive your socks, you'll be given these details and can use them to verify the authenticity of your purchase. Check that they're the real deal via your personal wallet or MtSocks by following the instructions below!
Verify the socks yourself using your own Bitcoin wallet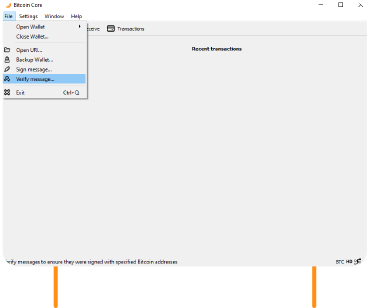 Open your own Bitcoin Wallet and find the verify message option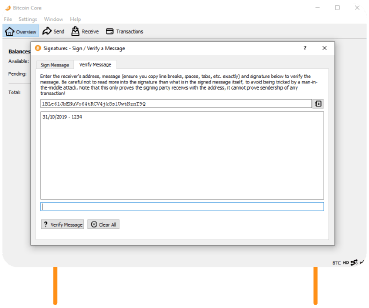 Enter the Bitcoin address assigned to your socks and the message you received in your order dispatch email (date of purchase and order Id)
Example: 1BLe61JbENuVo64tRCV4jkGs1UwtNznT9Q
31 October 2019 - 1234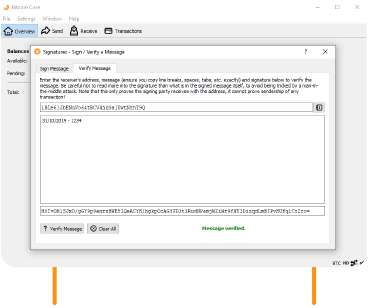 Enter the signature you received in your order dispatch email
Example: IGoLMxG2a0XXldv4/wd00I0EfZ4p5drCtMzEDgBOqFLvahZvYxcuCoZEgxuN49IX+HlofmQIU8QpMSSkf7NrCFc=
Verify the socks if you haven't got a Bitcoin Wallet
What other scenario would this be useful in?
Signing a message can help to prove that you own a Bitcoin address, making this an easy and useful way for the real Satoshi Nakamoto to prove that he's the creator of Bitcoin. To begin revealing his identity, Satoshi could sign a message using one of his publicly known addresses - showing that he holds the keys and has access to that Bitcoin address.
Although this would be a good starting point, many people would need to see more evidence than just proof of ownership of Satoshi's Bitcoin wallets. This is because it's possible that if Satoshi is no longer alive, family or friends may inherit his keys, gain access to his wallets and take the opportunity to make a false claim to be Satoshi. Ultimately, the Bitcoin community would require more proof that Satoshi was who he said he is!
A note to Bitcoin pros
We know that this isn't a bulletproof process just yet, but we really wanted to highlight a simple, rarely known feature of Bitcoin. There are improvements to make to its accuracy, but we decided to keep this functionality as simple as possible to help begin the education of those who are new to the concept!
Also note, we are only using legacy addresses beginning with 1 due to Bitcoin Core GUI not currently handling segwit message verification.